Shanghai (Gasgoo)-
BYD Company Limited ("BYD") saw its monthly auto sales hit a new high of 114,943 units in May 2022, zooming up 148.28% year on year, while also growing 8.39% month on month, the company announced last week.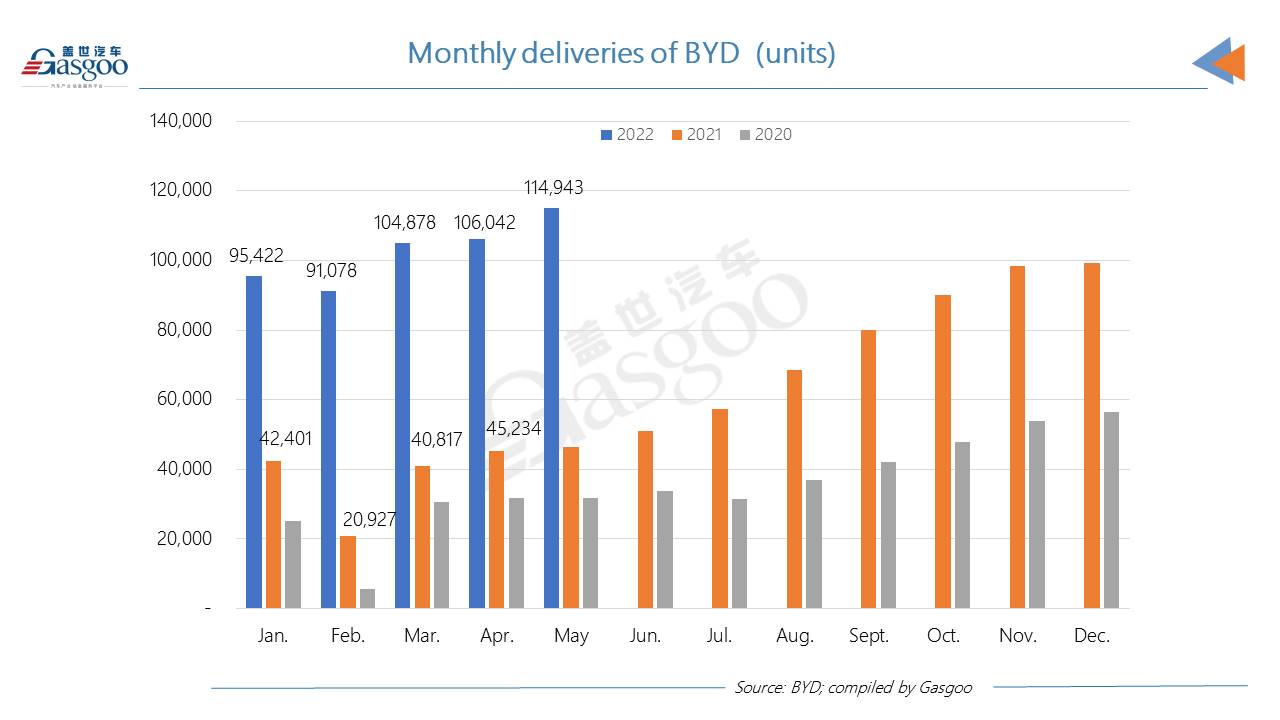 The new vehicles sold last month were all new energy vehicles ("NEVs") as BYD discontinued the production of oil-fueled vehicles in March this year.
Compared to the same span in 2021, BYD's NEV sales in May soared 250.44%. The blooming growth was entirely attributable to the 260.41% year-on-year growth in the new energy passenger vehicles ("NEPV") sales, which stood at 114,183 units.
Nevertheless, the May sales of new energy commercial vehicles fell at a two-digit rate year-over-year.

For the first five months of this year, BYD sold 512,363 vehicles in total, representing a 161.85% year-on-year hike. The year-to-date NEV sales reached 507,314 units, surging 348.11% from a year earlier.
Regarding sales of its main vehicle models, the Han family recorded a sales volume of 23,934 units in May. Notably, the sales of the BYD Han DM rocketed 359% year over year.
In addition, the Tang, Song, Qin, and Yuan series saw their monthly sales reach 8,449 units, 31,989 units, 20,753 units, and 13,333 units last month respectively.
Dolphin; photo credit: BYD
The automaker also sold 4,558 Destroyer 05 (Quzhujian 05) sedans in May, which leapt 123.4% from the previous month. Meanwhile, the sales of the Dolphin all-electric car came at 6,430 units.
BYD launched its CTB (cell-to-body) battery integration technology on May 20. Presale of the first model equipped with the new technology, the BYD Seal, began on spot.